Sacraments are outward and visible signs of inward and spiritual grace. The Church uses physical things as signs of invisible processes. Water is the sign of union with Christ for those who have been baptized. Taking the blessed bread and wine is the sign of our forgiveness and union with Christ and one another. These and other sacraments assure us of God's love for us.
BAPTISM
Baptism is the rite of full inclusion in the Body of Christ. It is 
baptism into a lifelong relationship with Christ and His Church.


In the case of child baptism, the parents presenting the child take on many of the vows on behalf of their child that an adult being baptized would. These vows include regular participation in Sunday worship, 
parish activities, and continuing Christian Education. The Church also 
makes a vow to "support this person in their life in Christ". (Book of 
Common Prayer, p. 303)


Baptismal classes are conducted whenever a person wants to explore for 
themselves or on their child's behalf the possibility of being baptized.


To begin this process, please make yourself known to Fr. Stanford, and 
he will be glad to meet with you at your convenience to give you 
baptismal instruction, have you fill out a new member's card, and 
schedule a baptism date.
MARRIAGE
Marriage is the sacramental rite of the church in which two persons 
"enter into a life-long union, make their vows before God and the 
Church, and receive the grace and blessing of God to help them fulfill 
their vows" (Book of Common Prayer, p. 861)


Marriage in the Church is a great blessing that also carries the 
responsibility of the vows made at baptism - regular attendance at 
Sunday worship, participation in the life of the parish, and 
continuing Christian Education.


Some may be reluctant to make such a commitment to the Church as they 
start their lives together. In that case, we recommend other 
arrangements for legal marriage, and when the couple is ready to 
engage with the Body of Christ, they may arrange with Fr. Stanford for 
a blessing of their union in the Church.


Three pre-marital instruction sessions (usually on successive 
Saturdays/Sundays) with Fr. Stanford or another credentialed provider 
will be scheduled prior to your marriage. These sessions are intended 
to strengthen your relationship, anticipate some common problems, and 
get you to envision the future on common ground.


If you have been previously married, please provide Fr. Stanford with 
your divorce decree. Since the Church is providing a document (your 
marriage license) to the State of Texas concerning the legitimacy of 
your upcoming marriage, it is required to certify your ability to 
enter into that marriage. This also provides an opportunity for 
counsel and advice concerning issues that may have affected previous 
marriages. Since the Bishop's consent is required for Fr. Stanford to 
perform a marriage for previously married persons, please factor this 
into your scheduling a wedding date.


To begin this process, please make yourself known to Fr. Stanford, and 
he will be glad to meet with you to schedule premarital sessions and a 
wedding date.
CONFIRMATION
Confirmation is the sacramental rite in which the candidates "express 
a mature commitment to Christ and receive strength from the Holy 
Spirit through prayer and the laying on of hands by a bishop" (Book of 
Common Prayer, p. 860). Those who were baptized at an early age and 
those baptized as adults without laying on of hands by a bishop are 
expected to make a mature public affirmation of their faith, recommit 
themselves to the responsibilities of their baptism, and receive 
laying on of hands by a bishop (Book of Common Prayer, p. 412). Adults 
baptized with the laying on of hands by a bishop are considered to be 
confirmed.


New members' classes are scheduled as needed throughout the year. 
These classes are both informative and reflective. While learning 
about the worship and work of the Episcopal Church, participants are 
encouraged to consider and, as able, to share their own spiritual 
journeys.


The Rite of Confirmation is conferred when the Bishop makes an annual 
visit to St. Christopher's. The visit is usually scheduled when a 
class is ready to be confirmed.


Please speak to Fr. Stanford if you desire to be confirmed.
BURIAL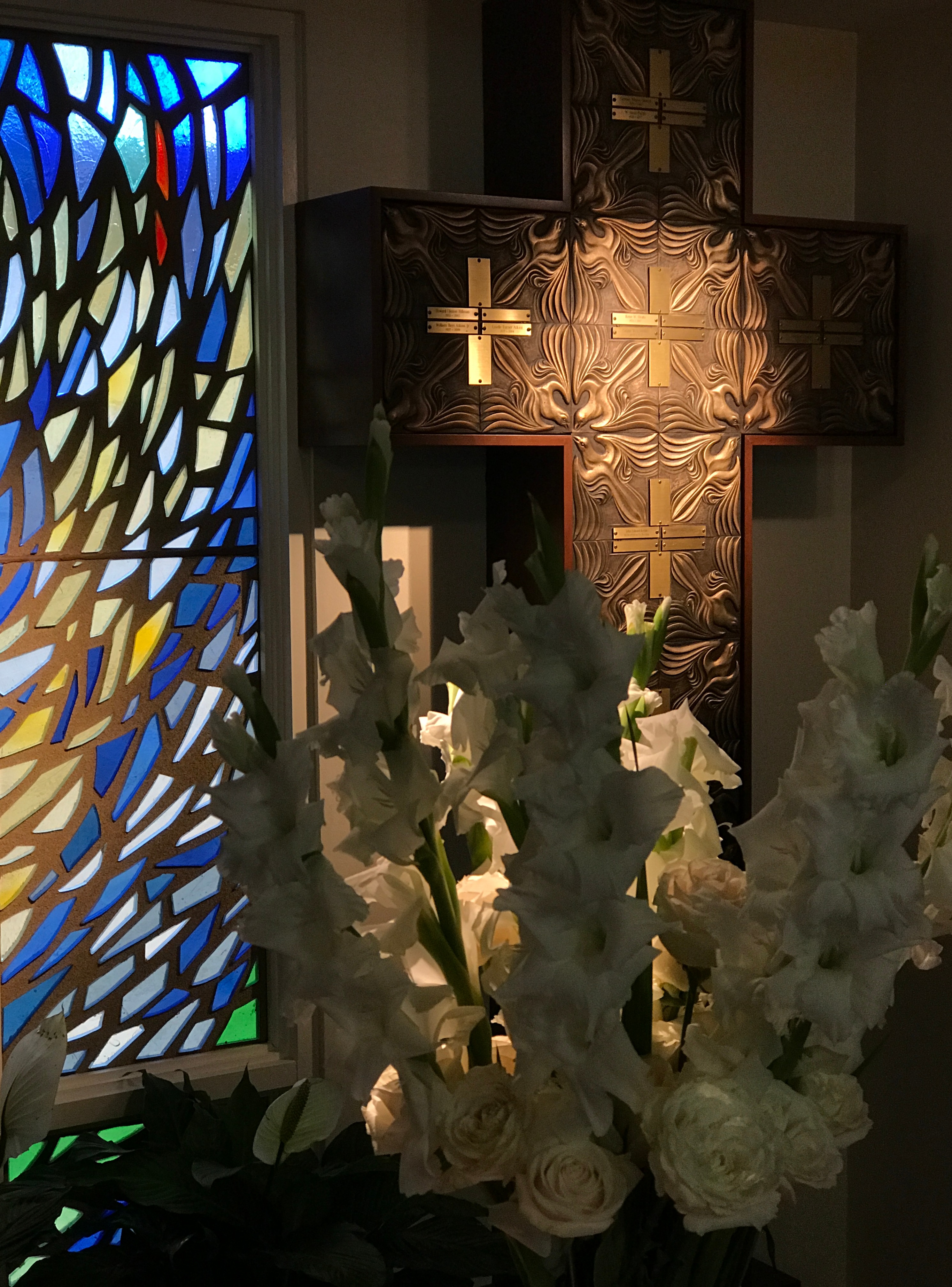 In the Episcopal Church, burial is considered an Easter celebration. 
Some might be surprised to see white vestments, hear celebratory 
music, and even laughter at an Episcopal burial service. The Church's 
ministry to those who grieve is available to anyone who desires it. 
The only charge required is $200 for the organist. Honoraria to the 
clergy are optional but appreciated.


Members of St. Christopher's and their family members may choose to be 
cremated and placed in the columbarium (collection of niches or 
spaces) in the garden in front of the church. Columbarium spaces are 
$500 each until August 1, 2019, and $1000 each after that date.


One of the greatest kindnesses we can do for our families is to 
prepare for our burial by pre-planning our service and our burial 
arrangements. Forms are available at the office that help with 
organizing readings and hymns that you would like at your service, 
along with other details like flowers (altar flowers are provided by 
the church), eulogy, reception (provided) before or after the service, 
and so forth.


Please call the Church office to speak to Fr. Stanford about arrangements.