St. Christopher Episcopal Church was founded on September 15, 1957, as a mission in the Diocese of Dallas. Seven families met in a park on that day. The group decided to name the church St. Christopher, the patron saint of travelers.

As the newly named church planned to locate on Southwest Loop 820, this was appropriate as it meant a welcoming for all.

The first Eucharist was held the Sunday after the signing in the home of one of the founding members. The mission then moved to a country club ballroom and six months later made its home at Southwestern Baptist Theological Seminary for one year.
In 1958, the parish built its first building at the Southwest Loop 820 location. The mission became a parish in 1960 and in 1961, construction of the present church and church school buildings were completed. The original church building became the parish hall, office, nursery, and chapel in 1973.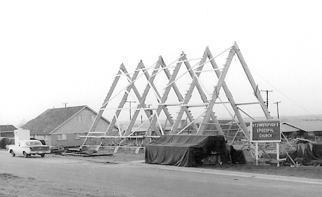 St. Christopher Preschool began as Christopher Robin School in 1960 and now holds classes for two, three and four-year-old children.
In late 1982 the western half of the Episcopal Diocese of Dallas became a new separate diocese that in early 1983 was named the Episcopal Diocese of Fort Worth. The new diocese included St. Christopher. In 1984, the church sanctuary was updated with the addition of a narthex, church parlor, and choir loft, which also houses the 1908 Pilcher pipe organ console and its 966 pipes.
As our membership grew and our outreach missions increased, we needed more space for our activities beyond our weekly services. In 2008, a capital campaign was launched for a major addition to the original building, and in February 2009 the Family Life Center was dedicated, with a catering-sized kitchen linking the Parish Hall to a multipurpose space of approximately 2300 sq. ft., handicap-accessible bathrooms and the St. Simon of Cyrene Chapel.
More recently, our worship space has gone through a major revitalization, with new paint, carpet and tile, an upgraded sound system as well as brand new pews, pulpit, lectern and communion rail to invigorate our fellowship and welcome newcomers to a refreshing and comfortable place in which to praise God.